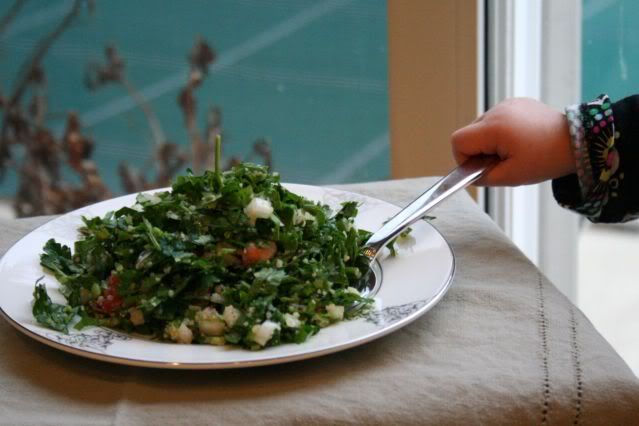 Recently I re-read my
tabbouleh recipe from back in the day
. While heartfelt, it was verbose, unnecessarily long, replete with strange suggestions and unimportant details. That was the first recipe I ever blogged, and while I am certainly not the world's authority on recipe writing, I'm starting to do things differently. And as the photo suggests, these days I need things to be faster, more reliable, and less fussy.
So, take two. But much better tasting, for our money. The Scientist likes his tabbouleh bracingly acidic, so this recipe tends to be quite lemony. Sometimes I serve extra lemon wedges alongside so those who wish can turn up the tart even higher!
Tabbouleh
Ingredients
1/2 cup freshly squeezed lemon juice
1 Tbsp. water
1/3 cup #1 bulgar
1/2 tsp. kosher salt
1/8 tsp. freshly ground black pepper
2 dashes cayenne pepper
1/2 tsp. ground coriander (my optional 'secret' ingredient)
1 tsp. dried mint or the leaves from 3 stems of fresh mint, finely chopped
4 cups finely chopped flat-leaf parsley, packed (about 2 big bunches)
2 medium-sized vine-ripened tomatoes, diced, about 1 cup
1 cup white onion, finely diced
1/4 cup extra virgin olive oil, the best you have (I like California Estate Extra Virgin Olive Oil from Trader Joe's)
Directions
Squeeze the lemons and pour juice and water over the bulgar and seasonings. Stir. Set aside for 10-15 minutes until the bulgar softens.
Meanwhile, triple-wash the parsley and place in a colander to drain for a few minutes.
Chop parsley, onion, then tomato and place in a medium/large salad bowl.
Once the bulgar has softened and absorbed the lemon juice, add it to the parsley mixture and gently toss to combine.
Finish with olive oil. Taste and adjust seasonings.
Most importantly, enjoy!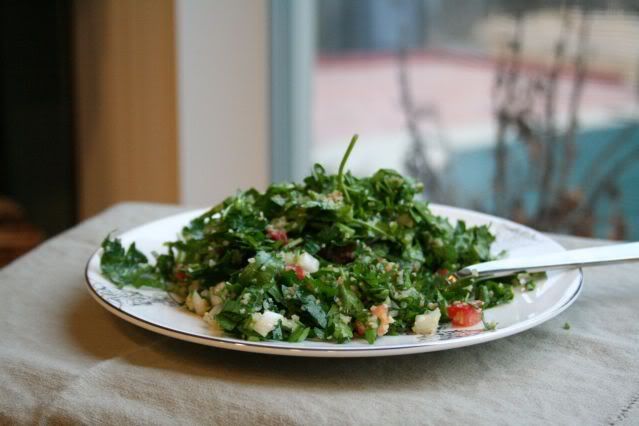 Notes:

-It's a matter of personal taste whether to use flat or curly-leaf parsley. We've tried both, and as it never lasts long enough at our place to get soggy (a common complaint about flat-leaf), we prefer Italian.
-I used to carefully remove the stems from the parsley leaves before chopping it up. Since then, my eyes have been opened to the crunchy deliciousness of finely chopped parsley stems in tabbouleh. So while I don't include all the stems, I do chop the bunches all the way from the leafy tops to the point where there are no more leaves left, inevitably getting plenty crunchy bits of stem.
-It's important to slice through the parsley only once so the leaves don't get chewed up by the knife. Which also means the food processor is not ideal here (sorry).
-The parsley doesn't have to be completely dry before use. The water droplets left on the leaves after washing help cut the acidity of the lemon juice.
-Bulgar #1 can be found in some international and all Middle Eastern groceries. Larger grinds of bulgar will take much longer to soften.