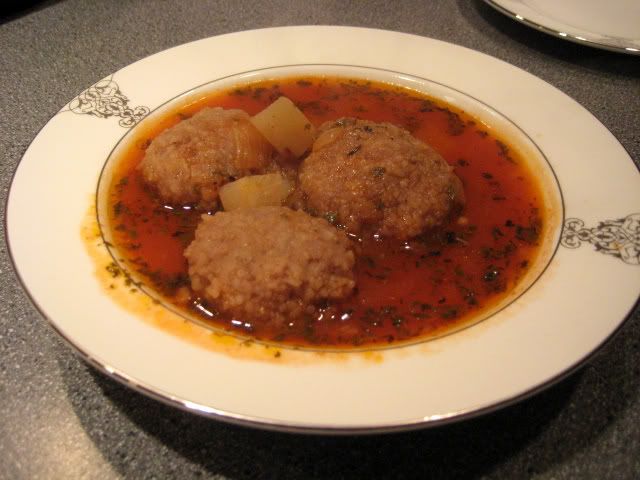 This is my husband's second favorite
kubba
, keeping in mind that the entire kubba genre is his overall favorite food of all time. That translates to some pretty good stuff.
This recipe could also use some tweaking to fit the original purpose of the blog: detailed recipes that anyone could follow...no expertise needed. But it could be a while before I make this again, so I'm publishing, and that's final. At least until I post a revised version, as I am wont to do.
I've seen vastly different recipes in books and on the internet, and have talked with different fantastic cooks, including my sweet mother-in-law (my go-to expert). This recipe combines my favorite elements of each version, while still staying true to the basics...lamb broth, turnips, lemon juice and mint. I admit, however, I prefer mine less tart than the Scientist likes...so I serve it with an extra half of lemon on the side so he can pucker it up to his liking. This strategy works for us since one can always make this more sour according to taste, but it's trickier to reduce the acidity. Note: he still says that's cheating...if it's not sour, it's not kubba hamuth, 'cause hamuth means sour! Sorry, Baby. I love you!
serves 4
1/2 medium onion, finely chopped
1 T. vegetable oil
2 lamb shoulder chops, with bone, about 3/4 lb. each
salt and freshly ground pepper
3 turnips, peeled and cut in bite-sized pieces (I like 3/4")
9 cups water, plus more
1/4 cup tomato paste (Tukas brand, if possible)
3/4 tsp. dried mint, or to taste
the juice of 2 lemons
salt and pepper, to taste
12
kubba
In large Dutch oven over medium-high heat, heat oil, then saute onions until lightly browned. Meanwhile, salt and pepper both sides of the lamb shoulder chops. Push onions to the side of the Dutch oven and brown the meat on both sides.
Add water, turnips, salt and pepper. Bring to a boil, then reduce heat and simmer 45 minutes, or until the turnips are tender and the flavor of the broth has deepened. Taste and adjust salt and pepper frequently. The turnips absorb a lot of salt, so don't be afraid to adjust the seasonings more than once.
Stir in tomato paste, then add mint and lemon juice. These go in towards the end because their flavors are more delicate and the long boiling affects their flavor.
Drop
kubba
into boiling sauce and cook on medium-high heat until they float to the top, about 10 minutes or more.
Serve with rice and a green salad.
Enjoy!